Why is Forex Copier the best choice to copy trades?
save your valuable time

simple and user-friendly interface

can transform and filter trades

has Reverse Trading features

works on any Windows OS

any MT4 builds and brokers

any types of orders

we will always help you if you have any questions, difficulties or feature requests

individual attention to each client

lot/risk management

you can create any copying schemes with your accounts

the program is mature and well-tested

will not waste your money on bugs and crashes
How can Forex Copier help you earn money?
YOU CAN COPY THE TRADES OF PROFESSIONAL TRADERS.

If you have an investor password from the account of a professional trader then you will be able to copy their trades to your account.

YOU CAN SPLIT YOUR DEPOSIT AMONG SEVERAL BROKERS AND DECREASE RISKS.

With Forex Copier you will be able to trade on one account only; all other accounts will copy trades from the Master account.

YOU CAN MANAGE MANY ACCOUNTS OF YOUR CLIENTS AND PROFIT FROM DOING SO.

YOU CAN REVERSE THE TRADES OF BAD TRADERS.

If you have an investor password from the account of a bad trader who is losing money on Forex then you can copy the opposite trades and earn money based on their "signals". For example, he opens BUY and Forex Copier opens SELL on your account automatically, so you will earn money if the bad trader loses money.
As simple as it can be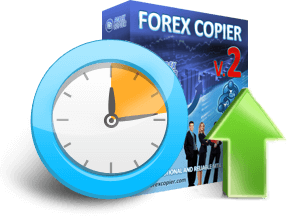 Install and configure the program with just a few clicks in no more than a few minutes!


Don't believe us?
Download the free demo and try it for yourself
How can it save you time?
If you have to manage several accounts then you can save time by trading on one account only, Forex Copier will do all the work of synchronizing accounts for you.
Installing and configuring Forex Copier takes a few minutes so you do not have to spend much valuable time.
Protect your account and save your money
Trade Copiers are working with your real money so think twice before choosing the right software. If you buy cheap but rough software then you can lose more than you save... Forex Copier has been working for traders since 2006 and we've had enough time to make the software reliable and stable
It can do whatever you want - more than 30 powerful features
Copy all types Market orders
Copy all types Pending orders
Copy all orders changes (modify, delete, close, partial close, close by)
Multiply any lot size from Master account by some value
Adjust lot size of any order based on correlation between Source and Receiver account Equity
Open trades with custom lot multiplier which is based on Receiver account equity and risk percentage
Automatic installation on Charts of your MT4
Copies everything between any MT4 accounts

Supports
any types of orders

Any account type
(demo/real)

Supports any MT4 versions
(including builds 600+)

Supports MT4 platforms
of any brokers